Dinner by the Decades at Cerise
Join your fellow Harvard alumni for a spectacular dinner at Restaurant Cerise in Bryn Mawr. Chef/Owner Ben Thomas has been voted 2017 Best Chef on the Main Line for the third year in a row, while the restaurant, which features contemporary European cuisine, received the 2017 Best Upscale Casual BYOB and Best Fine BYOB awards.
Chef Ben will talk about his culinary journey through Europe and Mexico and how new ingredients and techniques he encountered became his inspiration for Restaurant Cerise.
Tables will be arranged by graduation decade (i.e., 1950-69, 1970-79, 1980-89, 1990-99, 2000+).
Seating limted to 40 guests, so reserve early! And, remember to bring a bottle of your favorite wine!

Location: Restaurant Cerise, 1011 Lancaster Ave., Bryn Mawr, PA 19010 (link)
Date: Wednesday, April 11th, 2018
Time: 6:30-9:00pm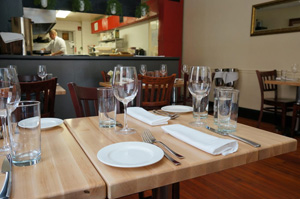 Price:
Sustaining Member: $55 (May bring 3 guests at member price)
Extended Member: $55 (May bring 1 guest at member price)
Regular Member: $55 (May bring guests at non-member price)
Non-member: $75 (May join now to receive member rate)
Prices include tax and tip. Non-alumni guests are welcome.
For any questions, email social@hrcphilly.com
Registration Closed.
Please indicate your class and any dietary restrictions on RSVP page after check-out .
When:
Wednesday, 04/11/18 at 6:30pm - 9:00pm | iCal
Where:
Cerise
1011 Lancaster Avenue
Bryn Mawr, PA 19010
[ Get Directions ]
Look Who's Coming:
Julia Kastner
David Chen
Priscilla Chiu
John Neefe
Lynne Neefe
Deb D'Arcangelo
Council for Relationships
Ed Dippold
Raymond James
Roger Bove
Patrice Bove
Dr.
Steve King
Mindy Aldridge
Rebecca Anderson
Paul Dry
Stacy Stone
Stephen McMillan
Salil Mehra
Sarah Mehra
Mitchell Rodman
Samuel Morris
Helen Chin
Michael Boulware
Janet Rich
Michael Galvin
Gail Chavis
Daniel Silver
Ehab Goldstein
Raghed Goldstein
Jeremy Goldberg
Rachel Goldberg
... a total of 30 guests.
Note: to opt out from this list please sign in, go to My Account and change your preferences under My RSVPs.