Dinner by the Decades ***Save The Date!!!***
Join your fellow Harvard alumni for a spectacular dinner at Restaurant Cerise in Bryn Mawr. Chef/Owner Ben Thomas has been voted 2017 Best Chef on the Main Line for the third year in a row, while the restaurant, which features contemporary European cuisine, received the 2017 Best Upscale Casual BYOB and Best Fine BYOB awards.
Seating will be arranged by graduation decade (i.e., 1950-69, 1970-79, 1980-89, 1990-99, 2000+).
The restaurant holds a maximum of only 44 guests, so reserve early!

Location: Restaurant Cerise, 1011 Lancaster Ave., Bryn Mawr, PA 19010 (link)
Date: Wednesday, April 11th, 2018
Time: 6:30-9:00pm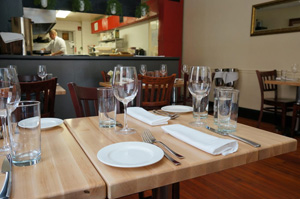 Price:
Sustaining Member: $55 (May bring 3 guests at member price)
Extended Member: $55 (May bring 1 guest at member price)
Regular Member: $55 (May bring guests at non-member price)
Non-member: $75 (May join now to receive member rate)
Prices include tax and tip. Non-alumni guests are welcome.
For any questions, email social@hrcphilly.com
RSVP Opening Soon . . .
Click here to buy tickets!!!
Please indicate your class and any dietary restrictions in the "special instructions" box on the check-out page.
When:
Wednesday, 04/11/18 at 6:30pm - 9:00pm | iCal
Where:
Cerise
1011 Lancaster Avenue
Bryn Mawr, PA 19010
[ Get Directions ]