PBHA | Caring for Our Neighbors ***RSVP Today!!!***
Join us for a panel discussion with Maria Dominguez Gray, PBHA Executive Director and current PBHA student leaders on "Caring for Our Neighbors in a Pandemic - What Harvard Students and Other Leaders are Doing and How We Can Help."
About Phillips Brooks House Association (PBHA):
PBHA strives for social justice. As a student-led organization, PBHA mobilizes volunteers in collaboration with Boston and Cambridge partners to address gaps in opportunities and resources. We develop student and community leadership to creatively meet critical needs and advocate for structural change. PBHA seeks to promote social awareness and community involvement at Harvard and beyond. For more information about PBHA, click here.
To see the SUP Auction, click here.
Date: Tuesday, April 13, 2021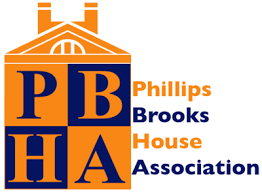 Time: 5:30pm – 6:30pm - Eastern time
Registration Now Open . . . .

Click here to Register!!!
***Please indicate the Club/ Region on the RSVP page after checkout.***

Zoom meeting link and dial-in information will be sent with confirmation email after registering .
Please make sure you are all set to use Zoom before the conference. Click here to Get Started on Zoom.
Event Organizer: Harvard Club of Philadelphia

Questions: programs@hrcphilly.com
When:
5:30PM - 6:30PM Tue 13 Apr 2021, Eastern timezone

Look Who's Coming:
David Chen
Jeremy Tobacman
Harry Douglas
Ayanna Johnson
Jenna McNeill
Christian Starling
Walter Licht
Morgan Bradylyons
Joyce Huang
Ryan Ewanyk
PBHA
Justin Martino
Liz Kendall
PBHA
Daniel Cho
Julia Welsh
Wanda Felder
Joan Kaplan
Brandon Washington
Luke McLoughlin
Fahedur Fahed
Karen Boyle
Guest of Karen Boyle
... a total of 24 guests.
Note: to opt out from this list please sign in, go to My Account and change your preferences under My RSVPs.