Speaker Series: Ali Wenzke '00 | The Art of Happy Moving
Join us as Ali Wenzke '00 shares tips on how to declutter and organize your home for maximum happiness. Ali is the author of The Art of Happy Moving: How to Declutter, Pack, and Start Over While Maintaining Your Sanity and Finding Happiness.
In this virtual workshop, we will:
Discover our home goals
Learn how to declutter in a fun & efficient way (kids included!)
Organize our homes optimally
Discuss how to set good home habits
Find ways to create a happy home on any budget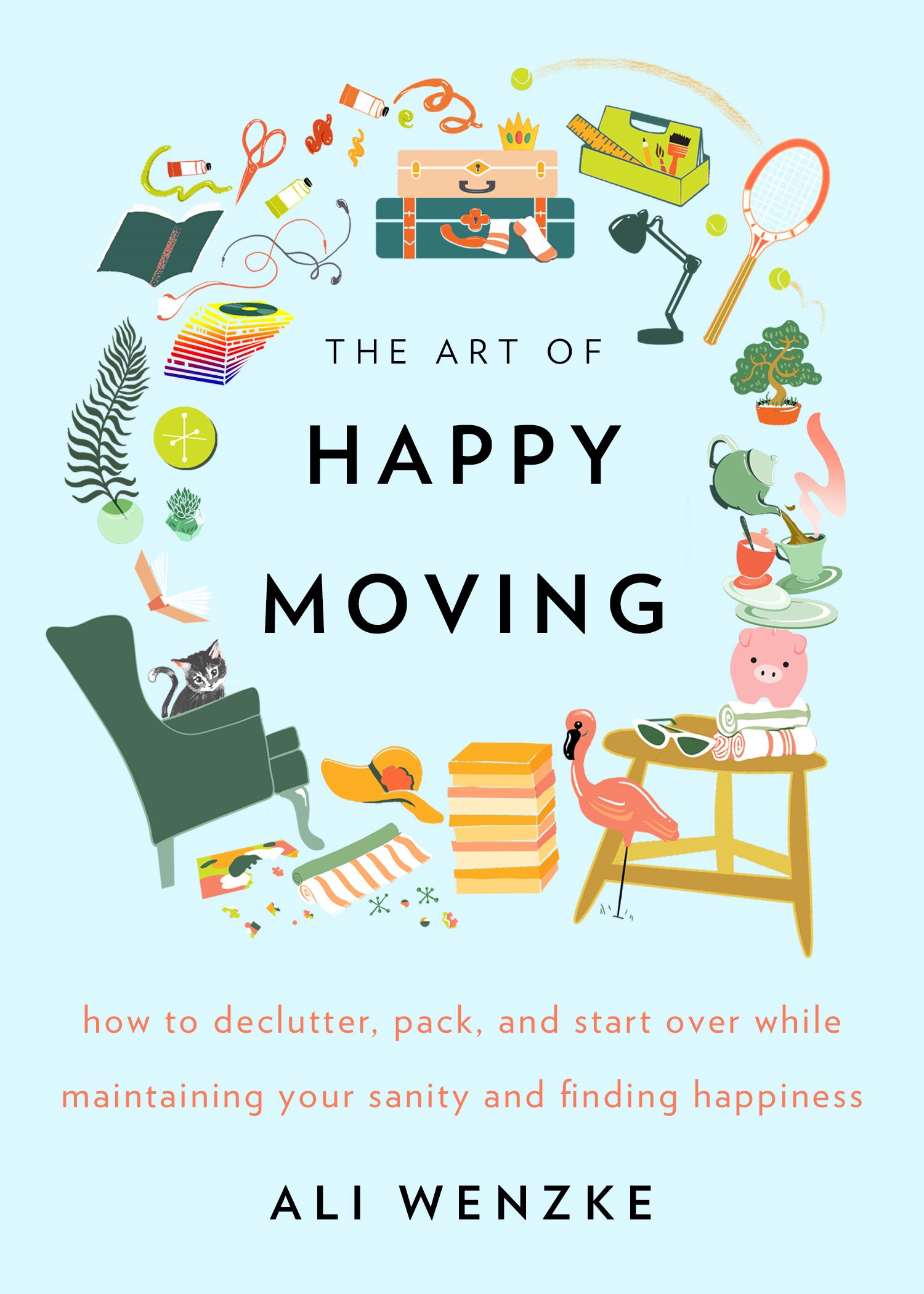 The Art of Happy Moving was chosen by She Reads as one of the BEST NONFICTION BOOKS OF 2019 and PureWow as one of 6 BOOKS TO READ IF YOU CAN'T GET ENOUGH OF MARIE KONDO. Ali's book is a comprehensive, upbeat guide to help you survive the moving process from start to finish, filled with fresh strategies and checklists for timing and supplies, choosing which items to toss and which to keep, determining the best place to live, saying farewell and looking forward to hello.
Author Bio: Ali Wenzke '00 is the author of The Art of Happy Moving: How to Declutter, Pack, and Start Over While Maintaining Your Sanity and Finding Happiness (William Morrow, 2019) and a real estate broker with Baird & Warner in Winnetka, IL. Ali and her husband moved ten times in eleven years, living in six U.S. states. A graduate of Harvard College '00 and Stanford Law School '05, she regrets never taking a class on moving. Known as the "Marie Kondo of moving", Ali's advice has been featured on TV, radio, and podcasts as well as in Forbes, U.S. News & World Report, Today.com, Real Simple, Parents magazine and many more. Ali is happily settled in the Chicago suburbs and doesn't plan on moving any time soon.
Date: Thursday, Feb. 3rd, 2022
Time: 7:00-8:00pm
Location: Virtual over Zoom

Click here to Register!!! Click to Join Meeting
Zoom meeting link and dial-in information will be sent with confirmation email after registering .
Please make sure you are all set to use Zoom before the conference. Click here to Get Started on Zoom.
Event Organizer: The Harvard Club of Philadelphia

Questions: programs@hrcphilly.com
When:
7:00PM - 8:00PM Thu 3 Feb 2022, Eastern timezone

Virtual Event Instructions:
Look Who's Coming:
Xena Wang
Melanie Sheerr
Kenneth Kaufman
Judy Ryde
Lawrence Bass
Caren Pauley
Guest of Caren Pauley
Todd Theringer
Stephen Klincewicz
Katherine Warriner
Linda Jan
Farah Qadar
Nikki Ari
Jeanne Rentezelas
Daniel Hopkins
Elizabeth Bates
Kayla K. Brochu
Lisa Frankel
Guest of Lisa Frankel
Ashley Wivel
Joanne McLean
Jacqueline McNair
Thomas Auchter
Luke McLoughlin
Susan Sefcik
Andrea Belasco
Amy Drum
Sheldon Rothenberg
Marc Sonnenfeld
Nancy-Beth Sheerr
Christy McMann
Kenneth Lin
Aaron Goldzimer
Gustavo Bessalel
Mary Elizabeth Beim
David Boggs
Elizabeth Koby
Preeta Chidambaran
Aaron Kleiman
Lauren E
Tanuja Korlepra
Justin Martino
Architect
David Chen
Elliott Seif
Rob Robinson
Newmarket Investment Management, L.P.
Erlis Wickersham
Harvard Club of Philadelphia
Sheldon Rothenberg
David Stringfellow
Janet Schwartz
Susan Raynor
Susanna Medoff
Harvard
Casey Cohen
Vanessa Battista
Debbie Phillips
Edward Eitches
William Talbot
Michelle Guo
Jasmine Omorogbe
Workday
LESLIE MULLIGAN
Susan Holliday
Kathy McNally
Panharith Ean
Shana O'Keefe
Christina Tobias-Nahi
Tuknekah Noble
Bernice Friedlander
Ellen Schofield
Tamara Harris
Yuchi Han
Barbara Livermore
Courtney Walsh
Lavona Grow
Theodore Hall
Cecilia Zhou
Annabelle Brett
Scott Talan
Robert Mazzone
Guest of Robert Mazzone
Bernadette Piacek-Llanes
Elizabeth Galaznik
Jay Galeski
Michael Jacewicz
Deborah Lisker
Marelise Voss
Alicia Toledano
Todd Theringer
Lisa Jenkins
Gail Chavis
Wanda Felder
William Blair
Princeton University
Christine Yamamoto
Michael Lyden
Guest of Michael Lyden
Paul Massell
Leslie Cohen
Ellie McCann
retired
Rowena Frazer
Ken Rock
Scott Talan
Guest of Scott Talan
Guest of Scott Talan
Julia Moore
Rose DiSanto
DiSanto Design
Lesley Hanes
Ashley Dowse
Carol Carty
Maria D'Souza
Leonard Finegold
Elizabeth Zacharias
Linda Pellecchia
Louise Gessel
Martha Carroll
Lynn Fields-Harris
Stephen Dittmann
Barbara Livermore
Holly McIlwee
C. Milner
Jenna McNeill
Scott Swanay
Guest of Scott Swanay
Mary Jue Xu
Guest of Mary Jue Xu
Neal Sher
Stephanie Gunderson
Olga Gumieniak
Shanasia Sylman
Mary Flannery
Laurance Narbut
Erin Flynn
Gail Moreschi
Guest of Gail Moreschi
Sharon Ricciardi
Sherelle Ferguson
Jill Wagner
Jeanine Murphy
Omer Totonji
Алексей Ковалёв
E. Perry Johnson
Harvard Club of DC
Karen Beaudry
Ivy Wang
Monica Ganatra
Alfred Kaemmerlen
Mary Ann Hurst
Brian Wylie
Pamela Carroll
Linda Freeman
Christine Yun
Kim Whelan
Marissa Jones Friedman
Daniel Cosgrove
Fred Wright
C. Elliott
Elisabeth Harper
Nkem Okafor
Joanne McLean
Victor Freeman
Gary Siegelman
Antonino Carbonetto
Rekha Doraiswamy
Theodore Clattenburg
Rika Kamijima -Tsunoda
Stephen Dittmann
Lina Ali
Gerald Porter
Caroline Simon
Tamara Harris
Karen Thaw
Sara Trescott
David Adams
Henry Ng
Guest of Henry Ng Ng
Olden
Susan Weil Dreyfuss
Kenneth Eng
Ken Eng
... a total of 202 guests.
Note: to opt out from this list please sign in, go to My Account and change your preferences under My RSVPs.