Rodin Garden Bar: Happy Hour (In Person)
Enjoy a change of scenery at the Rodin Garden Bar Pop-up. Explore the Rodin Museum, enjoy refreshing summer cocktails and tasty small plates, listen to music, and take in the garden oasis. Join fellow Harvard alums, family, and friends for a late summer Happy Hour and revel in the Rodin Museum, featuring sculptures from the famous French sculptor Auguste Rodin.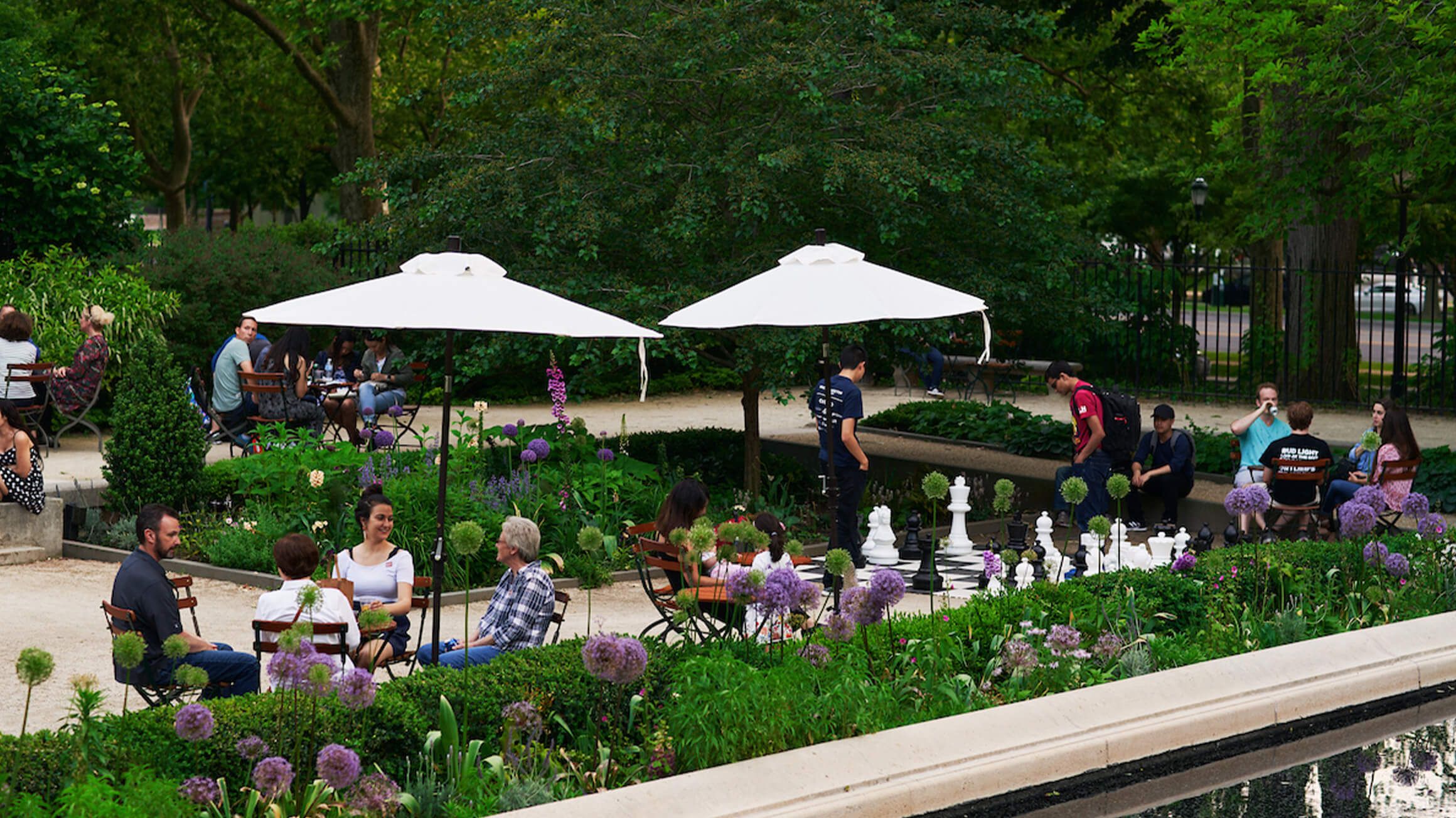 The Rodin Museum in Philadelphia, part of the Philadelphia Museum of Art, is one of the world's greatest collections of Rodin's works—and the only dedicated Rodin Museum outside of France. The Museum was the gift of movie-theatre magnate Jules Mastbaum, who began collecting Rodin's works in 1923 to found a museum and enrich the lives of his fellow citizens. Included in the collection are bronze castings, plaster studies, drawings, printers, letters, and books. One of Rodin's best-known sculptures, "The Thinker," sits outside the museum's entry courtyard greeting visitors.
When: Friday, August 19, 5:30-7:30
Where: 2151 Benjamin Franklin Parkway, Philadelphia, PA 19130
What: Mingle with Harvard alums, family, friends, and leashed pets in the gardens. There will be a Harvard Club Banner and a group of individuals there early to make it easier to convene. The Museum has a guided exhibition tour of Rodin's Hands from 6-7 which attendees can do if they wish, but is separate from this happy hour event.

Cost: Entry into the garden is free. Small bites and drinks can be paid with cash or card. The museum is Pay What You Wish (donation-based) admission.
Note: This event is family friendly with leashed pets allowed in the gardens only. There are water bowls available for the animals. Other food options outside of the Garden Bar are available at the nearby Whole Foods across the street or other local eateries like Wawa, Starbucks, Sabrina's Café, Pizzeria Vetri, and Unit Su Vege.

Parking: Limited metered parking available on the Benjamin Franklin Parkway, N 21st Street, and N 22nd Street. Parking also available at the Philadelphia Museum of Art's Parking Garage (located across from the main building on Anne d'Harnoncourt Drive)."
When:
5:30PM - 7:30PM Fri 19 Aug 2022, Eastern timezone

Where:
Rodin Garden Bar
2151 Benjamin Franklin Parkway
Philadelphia, PA 19130 USA
[ Get Directions ]
Look Who's Coming:
Wanda Felder
Rebecca Thomas
Clayton Thomas
Mary Claire Dale
Joseph McArdle
Sharrelle Barber
Julia Kastner
Liz Sutton
Geoffrey Jarvis
Robert Bauchwitz
Xena Wang
Guest of Xena Wang
Guest of Xena Wang
Taylor Reiter
Rosemary King
Martin King
Christopher Cardinale
Samuel Becker
Solomiya Lysenko
Paul Chow
Abimbola Orisamolu
Carmen Rodi
Jasmin Sethi
Louis Cid
Robert Robinson
Jackie Ramos Draper
Harvard
Corrie O'Neil
Playworks
Lisa Roth
Daniel Wang
Nkem Okafor
Guest of Nkem Okafor
Lauren Southwick
Elissa Klinger
Vanessa Gennarelli
Karen Rosenberg
Jenna McNeill
Paul Chi
Guest of Jenna McNeill
Guest of Jenna McNeill
Alphonse Lane
Martha Farah
Theodora Farah
Christina Amutah
R. Kamp
Folasade Sofela
Penn Medicine
Jessica Lee
Guest of Jessica Lee
Joseph McArdle
Sandy Smith
Inga Saffron
Elizabeth Marrin
Brian O'Neill
Brian O'Neill
Guest of Brian O'Neill
Guest of Brian O'Neill
Guest of Brian O'Neill
Kaoru Takasaki
Hank Schmidt
Guest of Hank Schmidt
Rachel Talley
Lei Huang
Maria D'Souza
Guest of Folasade Sofela
Damon Rankin
Berkadia Commercial Mortgage
Benjamin Sun
Ruth Craxton
... a total of 81 guests.
Note: to opt out from this list please sign in, go to My Account and change your preferences under My RSVPs.