The Potentialist: Your Future in the New Reality
of the Next Thirty Years (Virtual)
The HBS Club of Toronto invites the Harvard Club of Philadelphia members for a conversation with Ben Lytle about the coming transformational disruptions.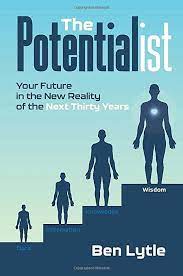 Instead of having your head in the clouds, the cloud will be in your head – thanks to brain-to-computer interface (BCI) – leaving you with just two choices, adapt or be left behind. Ben Lytle lays out what's next and how to get ready for it in his indispensable new book, THE POTENTIALIST: Your Future in the New Reality of the Next Thirty Years. Lytle has written a Future Shock for the 21st century, explaining how every one of us can thrive during these rapid changes by becoming a Potentialist. Boris Tsimerinov, Board Member of Harvard Alumni in Healthcare and President of the HBS Club of Toronto will speak with Ben Lytle.
BEN LYTLE is a self-made serial entrepreneur-CEO known for being ahead of the curve. Creating something out of nothing, adjusting and thriving during change, Lytle now is a thought leader on the future. He launched five successful companies, two listing on the New York Stock Exchange. His best-known success being Anthem, with a current market value of more than $100 billion. He is a healthcare policy expert who served on state and presidential healthcare commissions, and a governance leader with extensive public company experience.
When: Wednesday, January 11, 2023 at 12:00 noon
Where: Virtual
Cost: Free
Click here to RSVP thru HBS Club of Toronto

When:
12:00PM - 1:00PM Wed 11 Jan 2023, Eastern timezone

Virtual Event Instructions: