Wayne Art Center Exhibits (Craft, Glass, Abstraction) +
Radnor Trail Walk (In Person)
Join us to view the current exhibits at The Wayne Art Center, followed by a winter walk on the adjacent Radnor Trail.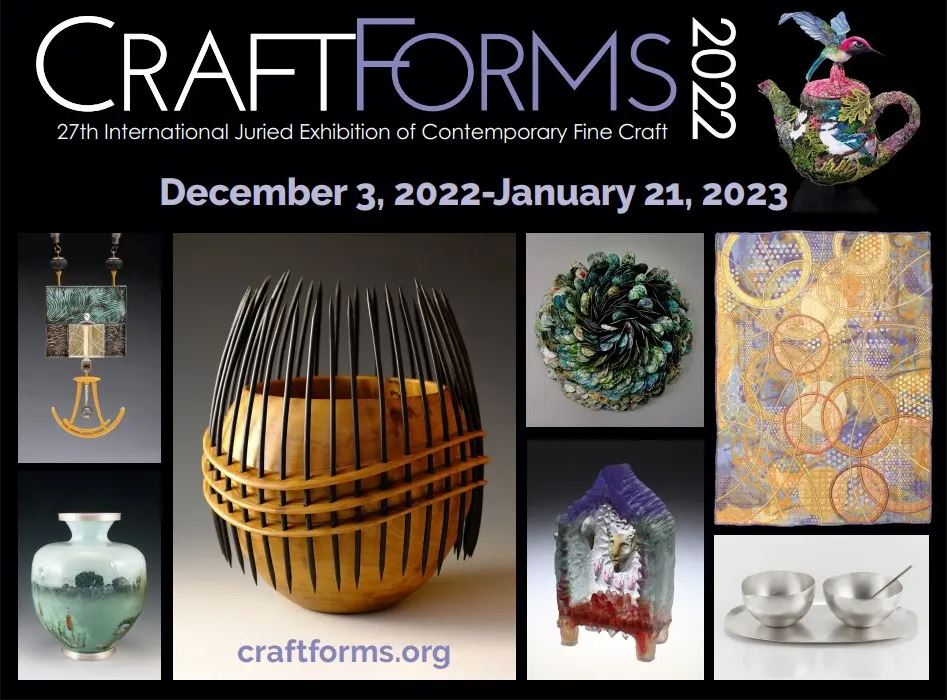 CraftForms 2022, the 27th International Juried Exhibition of Contemporary Craft, showcases works in basketry, ceramics, decorative fiber, furniture, glass, jewelry, metal, mixed media, paper, wearable art, and wood. This year's companion show, Beyond Glass, marks the United Nations International Year of Glass with artwork combining glass with other materials such as metal, wood, or found objects. Abstraction to Attraction features abstract paintings by current Wayne Art Center members and hangs in the Vidinghoff Lobby. For more information about the exhibits, click here.
Radnor Trail Walk - Bundle up! We will walk rain, shine or snow. Meet in the Art Center Parking lot at 11:30am.
Exhibit Location: Wayne Art Center 413 Maplewood Ave., Wayne, PA 19087
Date: Saturday January 7th, 2023
Time: Exhibit - 10:30am / Walk - 11:45am
Parking: free, art center parking lot.
The event is free, but please RSVP using link below.
Information about the Radnor Trail (former railroad line):
https://www.radnor.com/Home/Components/FacilityDirectory/FacilityDirectory/68/33

When:
10:30AM - 12:30PM Sat 7 Jan 2023, Eastern timezone

Where:
Wayne Art Center
413 Maplewood Ave
Wayne, PA 19087 USA
[ Get Directions ]
Look Who's Coming:
Justin Martino
Architect/ESG Investor
David Chen
Kit Heintzman
Matthew Young
Guest of Matthew Young
Michael Wong
Slalom Consulting
SiNae Pitts
Jonathan Welch
Mojdeh Keykhah
Guest of Mojdeh Keykhah
Ivelys Figueroa
Eric-Steven Gutierrez
Guest of Eric-Steven Gutierrez
Grant Gaugler
Alexis Morgan
S Sehon
Guest of S Sehon
Alphonse Lane
Baohong Chen
Guest of Baohong Chen
Kimberly Shaw
Sahab Aslam
Guest of Sahab Aslam
John James
... a total of 25 guests.
Note: to opt out from this list please sign in, go to My Account and change your preferences under My RSVPs.