Annual Meeting & Dinner - Featuring Mike Reiss,
Writer and Producer for The Simpsons
Simpsons writer Mike Reiss (AB '81) joins us for a night of laughs and behind-the-scenes stories about writing and producing The Simpsons, favorite episodes and characters, and Harvard connections and influences. It's an award-winning hour of stories, secrets and scandals, richly illustrated with rare cartoon clips.
After the show, Mike will be signing copies of his best-selling memoir Springfield Confidential: Jokes, Secrets, and Outright Lies from a Lifetime Writing for The Simpsons.
This year's meeting and dinner will be held at The Acorn Club, 1519 Locust Street, Philadelphia on June 13th from 6:30pm to 8:30pm.
Appropriate dress required. Business casual is recommended; jackets for gentlemen preferred.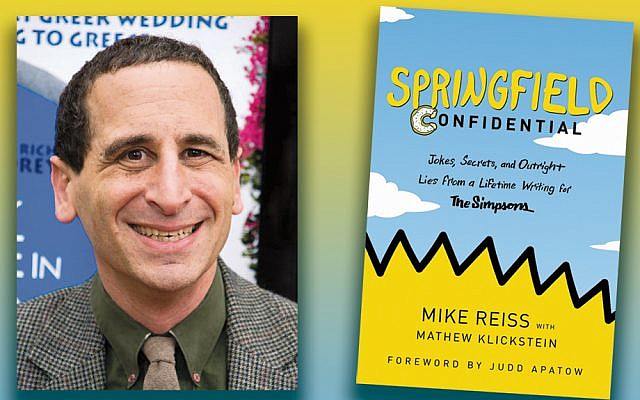 Evening Program:
6:30 PM Reception (Cash Bar)
7:00 PM Dinner
7:30 PM Keynote Address
Ticket Prices:
Sustaining Member: $65 (May bring 3 guests at member price)
Dual Member: $65 (May bring 1 guest at member price)
Regular Member: $

65

(May bring guests at non-member price)
Recent Grad: $

50

(May bring guests at non-member price)
Non-member: $80 (May join now to receive member rate)*
*Non-members who join now and attend the dinner will have their membership extended until August 2020!
Seating is limited - Don't wait, register today!!!
RSVP closes June 11th.
Click here to buy tickets!!!
When adding additional tickets, please click the recalculate button to update the cart.
Please indicate entree selection and dietary restrictions on RSVP page after check-out.
When:
6:30PM - 8:30PM Thu 13 Jun 2019, Eastern timezone

Where:
The Acorn Club
1519 Locust Street
Philadelphia, PA 19102
[ Get Directions ]
Enter Waitlist Here...
Look Who's Coming:
Daniel Silver
Florencia Polite
Guest of Florencia Polite Polite, Gabrielle
Melanie Sheerr Backlund
Erik Backlund
Jefferson University
Steve Kamp
Retired
Roger Bove
Patrice Bove
West Chester University
Eric Po
Luke McLoughlin
Ehab Goldstein
Raghed Goldstein
Maes Rabadi
Fredrica Friedman
Robert Bauchwitz
Kelly Widman
Guest of Kelly Widman
Robert Levin
David Chen
Margaret Crane
Dave Stevens
Clayton Thomas
Becky Thomas
Richard Woodville
Faézé Woodville
Justin Martino
Western Gate Capital Partners
Jerry Jacobs
Sharon Jacobs
U. Pennsylvania
Thomas Chambers
Vincent Li
Ying Li
Karen Spencer Kelly
Peter McGrath
Arthur Kyriazis
Guest of Arthur Kyriazis
Joseph Mitchell
Wanda Felder
Lauren Rockoff
Deb D'Arcangelo
Council for Relationships
Ed Dippold
Raymond James
Diane Danoff
Charlotte Phelps
Nicolas Xu
Gail Chavis
Rebecca Anderson
Lirui Li
Brent Martin
Hersha Hospitality Trust
Zachary Herrmann
Maggie Friel
Peter Scott
Sunny Kanneganti
Mobile Sweep
Peter Schwartz
Terry Lemire
Dan Angelucci
Michelle Curtis
Don Lemire
David Roth
CPExpert
Alicia Long
U. Penn New Bolton Center
... a total of 66 guests.
Note: to opt out from this list please sign in, go to My Account and change your preferences under My RSVPs.