Speaker Series: Douglas Wolk | All of the Marvels
Join us to hear Douglas Wolk '91 discuss his new book, All of the Marvels, the first-ever full reckoning of Marvel Comics' interconnected, half-million-page "epic of epics"—and to the past sixty years of American culture. Douglas is a beloved authority on the subject who read all 27,000+ Marvel superhero comics and lived to tell the tale!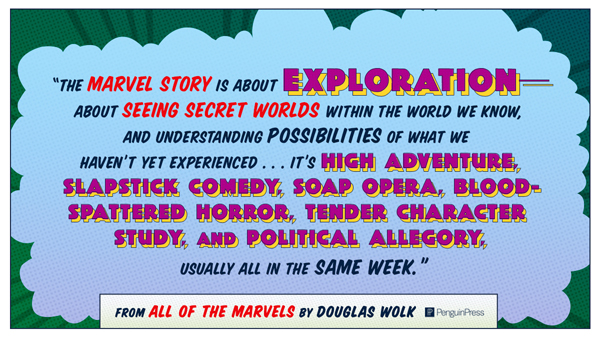 The superhero comic books that Marvel Comics has published since 1961 are, as Douglas Wolk '91 notes, the longest continuous, self-contained work of fiction ever created: over half a million pages to date, and still growing. The Marvel story is a gigantic mountain smack in the middle of contemporary culture. Thousands of writers and artists have contributed to it. Everyone recognizes its protagonists: Spider-Man, the Avengers, the X-Men. Eighteen of the hundred highest-grossing movies of all time are based on parts of it. Yet not even the people telling the story have read the whole thing—nobody's supposed to. So, of course, that's what Wolk did: he read all 27,000+ comics that make up the Marvel Universe thus far, from Alpha Flight to Omega the Unknown.

And then he made sense of it—seeing into the ever-expanding story, in its parts and as a whole, and seeing through it, as a prism through which to view the landscape of American culture. In Wolk's hands, the mammoth Marvel narrative becomes a fun-house-mirror history of the past sixty years, from the atomic night terrors of the Cold War to the technocracy and political division of the present day—a boisterous, tragicomic, magnificently filigreed epic about power and ethics, set in a world transformed by wonders.

As a work of cultural exegesis, this is sneakily significant, even a landmark; it's also ludicrously fun. Wolk sees fascinating patterns—the rise and fall of particular cultural aspirations, and of the storytelling modes that conveyed them. He observes the Marvel story's progressive visions and its painful stereotypes, its patches of woeful hackwork and stretches of luminous creativity, and the way it all feeds into a potent cosmology that echoes our deepest hopes and fears. This is a huge treat for Marvel fans, but it's also a revelation for readers who don't know Doctor Strange from Doctor Doom. Here, truly, are all of the marvels.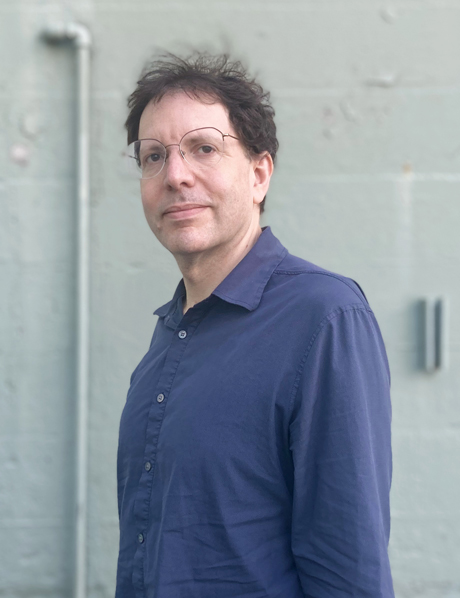 ABOUT THE AUTHOR - Comics writer, critic, journalist and teacher Douglas Wolk '91 is the author of the Eisner Award-winning Reading Comics and the host of the podcast "The Voice of Latveria." A National Arts Journalism Program Fellow, Wolk has written about comic books, graphic novels, pop music and technology for the New York Times, Rolling Stone, the Washington Post, the Los Angeles Times, The Believer, Slate, and Pitchfork. He lives in Portland, Oregon.
Date: Tuesday, Nov. 16th, 2021
Time: 7:00-8:00pm
Location: Zoom Meeting
To RSVP, use link below:

Click here to Register!!! To join meeting, click here.
Zoom meeting link and dial-in information will be sent with confirmation email after registering .
Please make sure you are all set to use Zoom before the conference. Click here to Get Started on Zoom.
Event Organizer: The Harvard Club of Philadelphia

Questions: programs@hrcphilly.com
When:
7:00PM Tue 16 Nov 2021, Eastern timezone

Look Who's Coming:
Melanie Sheerr
Wade Woodson
Harriet Costa
Agatha Glowacki
David Landau
Helen Hong
Tonia Hsieh
Barry Klayman
Justin Martino
David Chen
Erlis Wickersham
Алексей Ковалёв
Colin Leary
Paul Blore
Susan Sefcik
Алексей Ковалёв
David Benton
Mona Washington
Theos McKinney
Jenna McNeill
Joanne Sharma
Ted Camus
Bob Cort
Christopher Lucas
Patrick Fleury
Roger Bove
Stephanie Jones
ERIKA DREIFUS
Nathan Manske
Steven Sloca
David Puerto
Dartmouth
William Scarlett
Jonah Fay
Todd Theringer
Katherine Minyety
Dartmouth College
Olivia Zaid
Susan Glueck
Marelise Voss
Jacob Soriano
Adam Cohen
Gail Chavis
Upoma Dutta
Janet Warren
Dartmouth College
Wanda Felder
Shonette Carew
Roslyn Blyn-LaDrew
Suzanne Brownstein
shannon lopez
Rotonya Carr
Stephen Buehl
Gregg Costantino
Leon Rosenberg
Brian Downey
Dartmouth
Lucy Bell Jarka-Sellers
Elissa Prichep
Guest of Elissa Prichep
Nancy-Beth Sheerr
Алексей Ковалёв
Michael Nerstheimer
Danielle Beauchamp
Elizabeth Barrett
Betty Landesman
Todd Kushner
Eliot Nierman
Lionel Rivera
Naomi Meyer
Michael Lewis
Mark Fischer
Harvard Club of San Antonio
Anna Siefkas
Nicholas Aponte
Chris Murphy
Erika Jorgensen
Samuel Becker
Robert Meyer
Stephen Gilberg
... a total of 85 guests.
Note: to opt out from this list please sign in, go to My Account and change your preferences under My RSVPs.