Winter Hike: Betzwood Trail/Schuylkill River
Join us for an winter walk along the Betzwood Trail, part of the Schuylkill River Greenways in Valley Forge Park. We will journey along the mostly flat dirt and gravel path along the north side of the river until the halfway point turn-around at approximately 2.5 miles, while enjoying views of the river, birds, turtles and foliage. We will pass the Sullivan's Bridge stone marker, named for Major General John Sullivan, the officer who was charged by General George Washington with building a bridge across the Schuylkill River during the 1777-78 Valley Forge winter encampment of the Continental Army.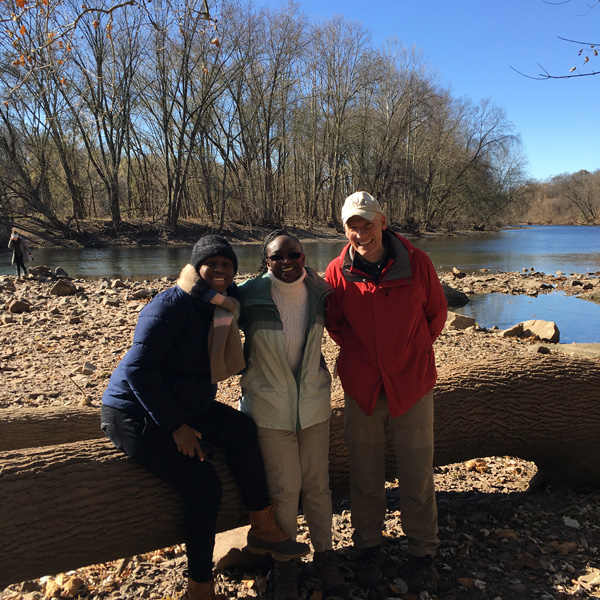 This gathering (children welcome!) will include a guide at the front and rear to accommodate different rates of enjoyment. Bottled water and granola/energy bars will be provided. The event is free for alumni, families and friends but please RSVP by Jan 12th.
Please download the activity waiver by clicking here and bring a signed copy to the event. All adults need to sign/date the waiver and list minors in their party.
We will hike rain or shine - in the event of thunderstorms, the hike will be rescheduled.
***Meeting information*** (Different from previous hikes)
We will be meeting at 12 noon, at the Betzwood Trailhead which is at the end of Sullivan Lane, off of S. Trooper Rd. (exit from Rt. 422) See map below.

Please park at the West (or left) far end of the parking lot. (Public bathrooms are available). We will begin the walk at 12:15 AM.

History Note: The nearby Betzwood Motion Picture Studio (some buildings remain), founded by film pioneer Siegmund Lubin in 1912, was the site of production for over 100 films, and was world famous as one of the largest and most advanced studios of its time.

Amenity Note: while in the area, walkers may want to explore the Valley Forge Visitor Center, the new King of Prussia Town Center and the adjacent Wegmans.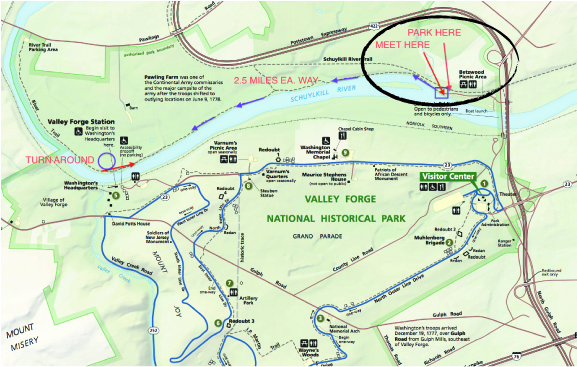 When:
12:00PM - 2:00PM Sun 16 Jan 2022, Eastern timezone

Where:
Valley Forge Park / Betzwood Trailhead
Sullivans Ln
Norristown, PA 19403
[ Get Directions ]
Look Who's Coming:
Michael Oeth
Justin Martino
ESG Investor
Stacy Stone
Valerie Dubnoff
Janet Rich
Xena Wang
Amy Sun
David Chen
Stephen Dittmann
Charlie Ford
Nkem Okafor
Daniel Silver
Gardner Cadwalader
Rhett Wampler
Jane Moss
Rebecca Blachly
Alphonse Lane
Mark Bean
Benjamin Sun
... a total of 22 guests.
Note: to opt out from this list please sign in, go to My Account and change your preferences under My RSVPs.