Current Trends in Digital Investing
Join us for a moderated conversation with Sarah Kirshbaum Levy (AB' 93, MBA '98), CEO of Betterment, a technology-driven financial services company, about current trends in digital investing, human v. robo financial advice, having an impact on ESG issues through your investments, and other issues.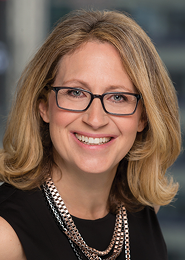 Speaker: Sarah Kirshbaum Levy is Chief Executive Officer of Betterment, the largest independent digital advisor. Sarah brings over 25 years of brand building, customer loyalty, corporate strategy and operational excellence to her role, and she has a passion for taking businesses to the next level. Sarah started her career at Disney and then spent over 20 years at Viacom, home to beloved brands including Nickelodeon, BET, MTV, and Comedy Central. Through a series of senior leadership roles, culminating in Chief Operating Officer, she led global strategy, finance and operations while shepherding global media phenomena, from SpongeBob to The Daily Show with Trevor Noah. Previously, Levy served as the Chief Operating Officer at Nickelodeon for over a decade, and drove expansion of the brand and business both organically and through acquisitions. This passion for brands and consumer experience is critical in today's financial services environment where investors have many more choices of where to entrust their resources than they did even a few years ago. Their desire to work with companies that understand them and reflect their values is central to the value proposition that embodies Betterment.
Moderator: Jasmin Sethi, CEO of Sethi Clarity Advisers
Date: Tuesday, March 1, 2022
Time: 7:00-8:00pm
Location: Virtual over Zoom
Zoom meeting link and dial-in information will be sent with confirmation email after registering .
Please make sure you are all set to use Zoom before the conference. Click here to Get Started on Zoom.
Event Organizer: The Harvard Club of Philadelphia

Questions: programs@hrcphilly.com
When:
7:00PM - 8:00PM Tue 1 Mar 2022, Eastern timezone

Virtual Event Instructions:
Look Who's Coming:
Wade Woodson
David Othmer
Jill Wagner
Melanie Sheerr
David Beans
Mary Ann Hurst
Guest of Mary Ann Hurst
Ed Dippold
Erlis Wickersham
DAVID MAHLER
DAVID MAHLER
David Mahler
Joshua Steinerman
Jeff Zwerdling
Lisa Frankel
Luke McLoughlin
Camilo Torres Navarro
Vertex Resources
Jasmin Sethi
Christina Lazaridis
David Chen
Samantha Butts
pan pan
Gail Chavis
of Gail Chavis
Jennifer Ahaghotu
Justin Martino
Architect
Xena Wang
Christopher Cardinale
Janet Rich
David Bates
Chase Bower
David Puerto
Jo koorapati
Erika Jorgensen
Nancy-Beth Sheerr
Eva lily
Elizabeth Galaznik
Upoma Dutta
Jim Reinhart
Aaron Capizzi
Katrina Nousek
Richard Rainey
Varghese Thomas
Nicole Loftus
Pop Venture
Ashley Scott
ICF International
Ariel Finegold
Nimay Parekh
William Blair
Helen Hong
Jessica Moore
Expo
David Bills
Suzanne Brownstein
Arthur Hirsch
Ben Ashton
Alicia Alcamo
Abimbola Orisamolu
Theodore Lee
Michael Bopp
Guest of Michael Bopp
Inaara Shiraz
Harry Douglas
Elizabeth Bates
Michael Farrington
Sethi Clarity Advisers
Rachel Tanio
Wanda Felder
... a total of 69 guests.
Note: to opt out from this list please sign in, go to My Account and change your preferences under My RSVPs.