Exclusive Behind the Scenes Tour of the Pennsylvania Academy of Fine Arts' Cast Hall (In Person)
Join Harvard alums, family, and friends in a one-of-a-kind experience touring behind the scenes at the Pennsylvania Academy of Fine Arts' Cast Hall, including a wine and cheese reception before the tour.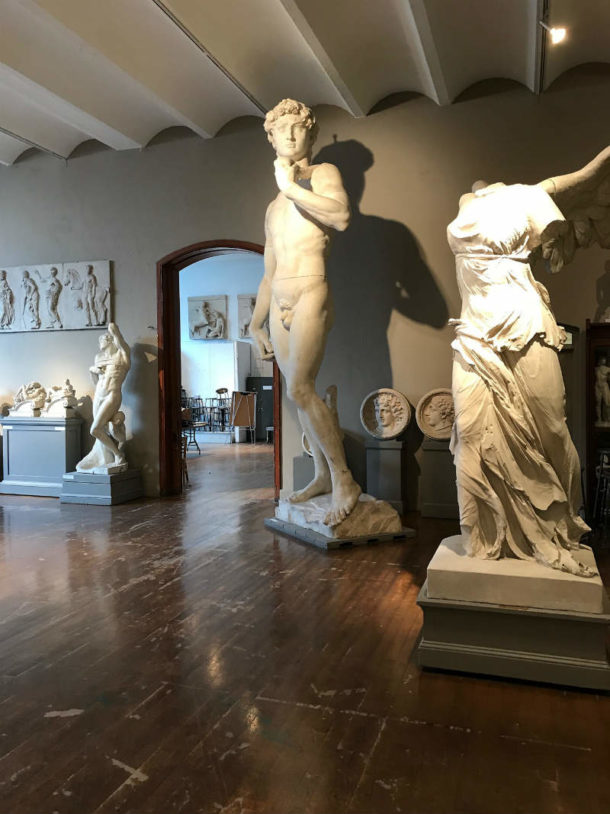 Within the Hall are over 120 fine and rare plaster casts of famous Greco-Roman and Italian Renaissance statues - many commissioned for the Louvre Museum. This cast collection is one of the most impressive in the United States, with several of these castings stemming from the original sculptures, including Michelangelo's David: a 17-foot-tall exact replica of the original statue in Florence (gifted 1988). Other amazing sculptures include Winged Victory (Louvre), Venus de Milo (Louvre), and Laocoon (Vatican). Generally only open to students, this exceptional peek into the Cast Hall is not to be missed!
Founded in 1805, the Pennsylvania Academy of the Fine Arts is America's first school and museum of fine arts. A recipient of the National Medal of Arts, PAFA offers undergraduate and graduate programs in the fine arts, innovative exhibitions of historic and contemporary American art, and a world-class collection of American art. PAFA's esteemed alumni include painters Mary Cassatt, Njideka Akunyili Crosby, Thomas Eakins, Henry Ossawa Tanner, architect Louis Kahn, and filmmaker David Lynch.
The tour will be guided by Megan K. McCarthy, Ph.D. Megan is Senior Director of Individual Giving at the Pennsylvania Academy of the Fine Arts (PAFA). Prior to joining PAFA in 2018, she held Development roles at The Museum of Modern Art, the Whitney Museum of American Art, and the New Museum in New York. Dr. McCarthy completed her B.A. and Ph.D. in 19th and 20th century art history at Columbia University, and has received fellowship support from The Metropolitan Museum of Art, the German Historical Institute, the Council for European Studies, and Columbia University.
Space is limited to 40 people. RSVP Today!!!
When: Thursday, September 22, 2022 at 6pm
- 6pm: Wine & Cheese Reception (in Cast Hall)
- 7pm: Guided Tour of Cast Hall
Where: Pennsylvania Academy of Fine Arts (PAFA), 118-128 North Broad Street, Philadelphia, PA 19102
Cost: $40 for members / $65 for non-members
Notes:
For parking information, please see this link here.
PAFA is accessible, so visitors with wheelchairs and strollers are welcome into all the spaces. Wheelchairs are also available for use.
With gratitude and thanks to Ro King C'85, Board Trustee of PAFA, for making this possible!
When:
6:00PM - 8:00PM Thu 22 Sep 2022, Eastern timezone

Where:
PAFA
128 North Broad Street
Philadelphia, PA 19102 USA
[ Get Directions ]
Look Who's Coming:
Xena Wang
Guest of Xena Wang
Justin Martino
Architect
Alphonse Lane
Robert Meyer
Stephen Dittmann
Rosemary King
Elise Bruhl
Guest of Elise Bruhl
Elizabeth Galaznik
John Galaznik
Jasmin Sethi
Guest of Jasmin Sethi
Susan Weil Dreyfuss
Dan Beaulieu
Charlotte Raty
Richard Woodville
Faézé Woodville
Rosemary King
Guest of Rosemary King
Guest of Rosemary King
Guest of Rosemary King
Joseph Scott McArdle
Guest of Joseph Scott McArdle
Nikolai Roussanov
Guest of Nikolai Roussanov
... a total of 26 guests.
Note: to opt out from this list please sign in, go to My Account and change your preferences under My RSVPs.