HCP Book Group: Pachinko
Our next book is Pachinko by Min Jin Lee - Goodreads Choice Award Nominee for Best Historical Fiction (2017). We will meet on July 23rd at 11am. The group will be limited to 10 people and be an in-person event only.
About the book: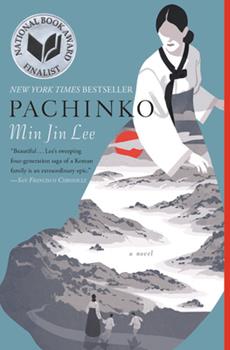 In the early 1900s, teenaged Sunja, the adored daughter of a crippled fisherman, falls for a wealthy stranger at the seashore near her home in Korea. He promises her the world, but when she discovers she is pregnant - and that hermlover is married - she refuses to be bought. Instead, she accepts an offer of marriage from a gentle, sickly minister passing through on his way to Japan. But her decision to abandon her home, and to reject her son's powerful father, sets off a dramatic saga that will echo down through the generations. Richly told and profoundly moving, Pachinko is a story of love, sacrifice, ambition, and loyalty. From bustling street markets to the halls of Japan's finest universities to the pachinko parlors of the criminal underworld, Lee's complex and passionate characters — strong, stubborn women, devoted sisters and sons, fathers shaken by moral crisis — survive and thrive against the indifferent arc of history.
Last month's book: Interior Chinatown
Our discussion of Interior Chinatown by Charles Yu was very interesting and we were able to delve much more deeply into the book to get a better understanding of it. For those who may be interested Charle Yu will be visiting Philadelphia to discuss his book. It's on Thursday June 22nd at the Community College of Philadelphia at 6pm followed by Karaoke at the Asia Arts Initiative. Karaoke was a part of this book and it should be fun. To register, visit the Free Library website here.
Thank you to all who attended.
Host / Lead Organzier: Deborah Ritter
Date: Sunday, July 23rd at 11am
Location: Address will be included in confirmation email. (Not the same as last time.)
Coffee and tea will be provided.
Limited to 10 people.
When:
11:00AM - 12:30PM Sun 23 Jul 2023, Eastern timezone

Where:
The Ritz Carlton, 1414 South Penn Square
1414 South Penn Square
Philadelphia, PA 19102
[ Get Directions ]
Look Who's Coming:
Lynn Teller
Michelle Hong
Susan Robinson
Jonathan Nycz
David Chen
... a total of 6 guests.
Note: to opt out from this list please sign in, go to My Account and change your preferences under My RSVPs.