Welcome to Your City 2023 *** Two Events on 9/27 ***
Calling all Philadelphia Area and South Central PA-based Harvard alumni!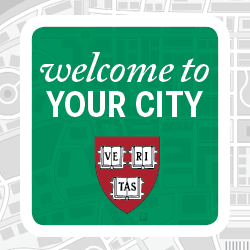 On Wednesday, September 27th, alumni in cities around the world will come together to welcome members of the Class of 2023 to their new cities! Harvard alumni who graduated between 2013 and 2023, from the College or any of the graduate schools, are invited to participate.
If you live in either the Greater Philadelphia Area or Greater Harrisburg Area, or you have plans to move there, the Harvard Club of Philadelphia welcomes you to register here for one of our two Welcome to Your City events. The evening promises a welcome to your respective City while meeting and connecting with alumni in the area. Attendees will also learn about the many Harvard Clubs and Shared Interest Groups available to you and more.
*************************
Welcome To Your City - Philadelphia:
Whether you are new to Philadelphia and surrounding suburbs, or have called the area home for years, the Harvard community is your community—so we hope you will join us on September 27th! Register with your LinkedIn profile or other social media accounts to see who's coming and connect with others before, during, and after the event.
Philadelphia Location: The Mulberry, 1835 Arch Street, Philadelphia
Date & Time: September 27th from 5:30pm-8:00pm

Click here to Register!!! for Philadelphia event
thru HAA website
**************************
Welcome To Your Region - South Central PA (Harrisburg):
Harvard alums in the small but mighty South Central PA area are invited to "Welcome To Your Region - South Central PA". This casual social event will be held in Harrisburg at the rooftop garden at Millworks. There is ample free parking available at Millworks. Look for organizer Seth Rubinstein (HLS '22) who will wear a HLS cap and will get a table early. The rooftop serves alcoholic and non-alcoholic beverages and light bar foods. We look forward to seeing you there.
South Central PA Location: Millworks, 340 Verbeke St, Harrisburg
Date & Time: September 27th from 6pm-8:00pm
Click here to Register!!! for Harrisburg event
thru HAA website