All Ivy Fall Fete: A Night at the Museum
Organized by the Harvard and Cornell Clubs of Philadelphia, in partnership with the Independence Historical Trust, you are cordially invited to our Inaugural Fall Fete! Taking place in the breathtaking Portrait Gallery, housed within the Second Bank of the United States, the evening will feature a selection of DiBruno Brothers culinary delights, locally sourced wine, Yards Brewing Co beer, and a silent auction to support the restoration of the First Bank.
We are delighted to be announcing the partnership between these nonprofit organizations as the 250th Anniversary of our new Nation rapidly approaches (2026). Jonathan Burton, Director of Development for the Independence Historical Trust will share a few words about the projects that the Trust has underway and will be available to share more details with those who are interested in getting more involved.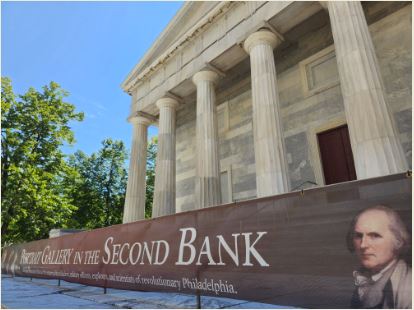 Date: Friday, October 27, 2023
Time: 6:30-9:00pm
Location: The Second Bank of the United States, 420 Chestnut Street, Philadelphia
Tickets:
General: $100 p.p
Individual Patron: $250 p.p.
Corporate Patron: $500 (includes 2 attendees)
Click here to buy tickets!!! thru IHT website
When:
6:30PM Fri 27 Oct 2023, Eastern timezone

Where:
Second Bank of the United States
420 Chestnut Street
Philadelphia, PA 19106
[ Get Directions ]