Speaker Series: Susan Walter '91 | Good as Dead
Join us to hear Susan Walter '91 discuss her new book, Good as Dead, and the process of transitioning from Hollywood/movies/screenplays to writing a book.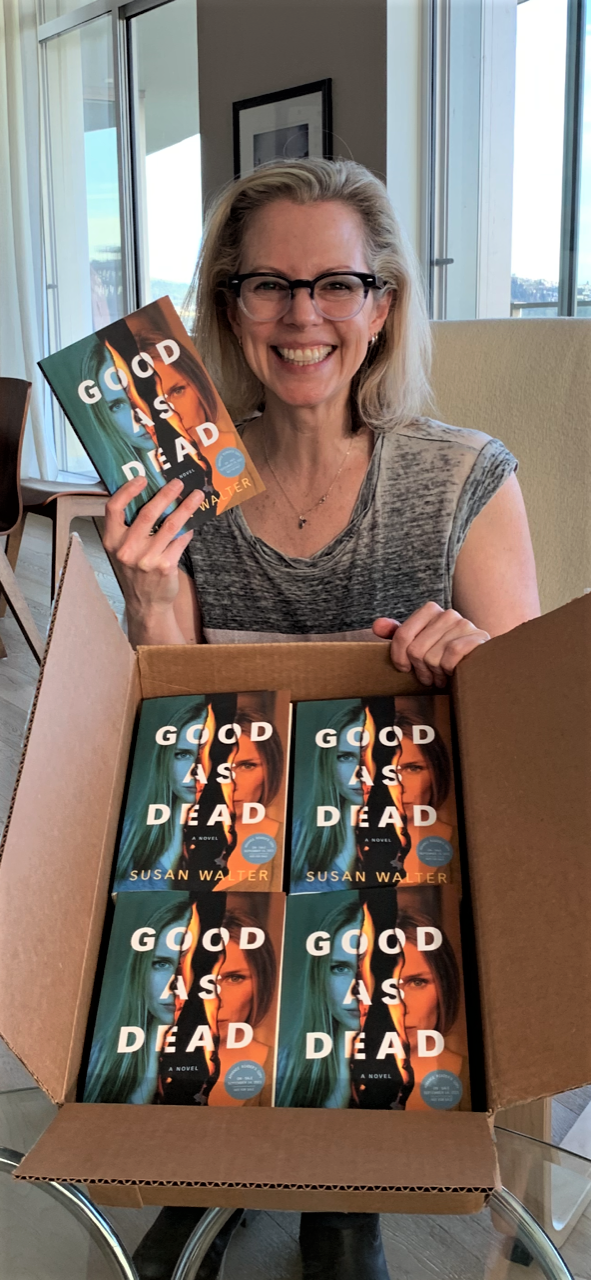 The winner of the (not terribly) prestigious WIFTS screenwriting award for All I Wish, the film she wrote and directed starring Sharon Stone (currently streaming on Netflix), Susan Walter is excited to add "first time novelist" to an eclectic resume that includes "failed concert violinist," "unwatchable TV news reporter," and "dazed mother to two teenage girls." Groomed to be alone in a room for hours on end by a childhood spent practicing violin, writing a book came naturally to Susan, and her husband is hopeful she will finally have a reason to use her computer for something more productive than watching Red Sox baseball. A native of Boston, she suppresses her irresistible accent to avoid stink eye from sports fans across Los Angeles, where she now resides. She has an AB in government from Harvard, which she thus far fails to put to good use, and enjoys skiing, lazy bike rides, and wicked strong coffee. Susan has a book deal with Lake Union. Her second book, a thriller about a struggling actress who inherits a fortune from a stranger, is scheduled for publication in fall 2022.
Date: Wednesday, Jan. 19th, 2022
Time: 7:00-8:00pm
Location: Virutal

Click here to Register!!! Click Here to join the Zoom Meeting
Zoom meeting link and dial-in information will be sent with confirmation email after registering .
Please make sure you are all set to use Zoom before the conference. Click here to Get Started on Zoom.
Event Organizer: The Harvard Club of Philadelphia

Questions: programs@hrcphilly.com
When:
7:00PM - 8:00PM Wed 19 Jan 2022, Eastern timezone

Virtual Event Instructions:
Look Who's Coming:
Justin Martino
Architect/ESG Investor
Michael Oeth
Kayla K. Brochu
Janet Rich
Janet Rich
Marelise Voss
Mary Elisabeth "Marelise" Voss
HR91
Deborah Lisker
Nkem Okafor
David Benton
Gail Chavis
David Socolow
Claudia Mastroianni
Brenda Kurland
Lindsay Moran
Jennifer Miller
HR91
Neil Cooper
Todd Theringer
David Benton
Kayla K. Brochu
Ashley Wivel
Samuel Farthing
Andrea Belasco
Rika Kamijima-Tsunoda
Guest of Rika Kamijima-Tsunoda
Guest of Rika Kamijima-Tsunoda Kamijima-Tsunoda
Digital Agency, the Government of Japan
Sheldon Rothenberg
Cheryl Dixon
David Chen
Kenneth Lin
Mary Walton
James Stark
Steven Turner
Alexis Morgan
Linda Rink
John Greg Gomez
Laura Fein
Lenore Jones-Peretto
Elizabeth Rulonns Neilson
Stephanie Calman
Rebeca Ervin
Harvard Club of DC
Guest of Rebeca Ervin
Earl MacFarlane
Isabel Draves
R. Kamp
Judy Melinek
Nitzet Velez
Maria D'Souza
Kathy Strobos
Rika Kamijima-Tsunoda
Amy Rogers
Harvard '91
Janet Rich
Jessica Smith
Sheldon Rothenberg
Guest of Sheldon Rothenberg
Guest of Sheldon Rothenberg
Guest of Sheldon Rothenberg
Michael Williams
... a total of 63 guests.
Note: to opt out from this list please sign in, go to My Account and change your preferences under My RSVPs.